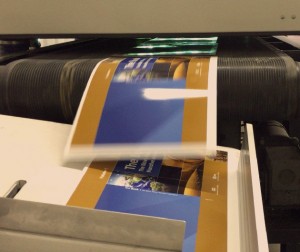 Our Ultra Violet or U.V. Coating offers lasting protection and an enhanced appearance for many printed applications. We offer a full flood U.V. Coating gloss finish that compliments the design of the material.
U.V. coating is a clear liquid spread over paper like ink. It is instantly cured with U.V. light. This type of coating provides more sheen and protection than aqueous coating or varnish. There are no solvents entering the atmosphere, either, since it is cured with light instead of heat. One hundred-pound text and heavier weights of paper can be coated.
U.V. coating is an excellent choice for products such as:
Calendars
Labels
Book covers
Magazines
However, this is not an exhaustive list.
Our Equipment
The Dorn DUV-301 is what we use to apply U.V. Coating. Our capabilities include full flood on coated stock. We do have a #65 cover minimum, and ink and substrate compatibility requirements do apply.
At Steve's Bindery Service, Inc., our 16,000 square foot shop is kept spotless and organized. After each job is completed, the area is cleaned, no matter how busy we may be. In addition, our equipment is meticulously maintained to ensure limited downtime and the highest quality product.
All materials that arrive at Steve's Bindery Service, Inc. are stored safely, ensuring that each piece of material is delivered in pristine condition.
Steve has been in the printing industry since 1978. He focuses on quality and his wide range of industry experience and knowledge is put to work with each customer to create printed materials that meet or exceed their needs. When Steve says a job will be done on a specific date and time, it is done and ready for the customer at the promised time or before. He only promises what he can deliver! This is just one of many reasons why Steve's Bindery Service, Inc. has many satisfied and repeat customers.
Need more information or a quote?
Call 405-946-2183
or submit your
specifications online