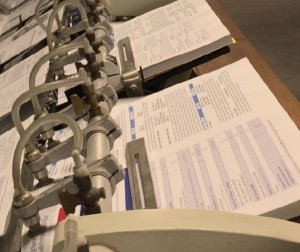 Collating is the process of gathering individual sheets of printed materials and other elements and assembling them into a final product. At Steve's Bindery Service, Inc., we can provide hand or automated collating services. There are many jobs that require collating services, such as coil-bound books, Wire-O books, saddle stitched books, corner stitch information packets, coupons, and many more. We have yet to meet a collating job we can't handle.
Hand Collating Services
Our hands can collate your literature to your specifications. We can handle large or small quantities, no matter how many pages. Our accurate hand collation services can also include folder assembly and the insertion of tabs into Wire-O bind and Plastic Coil projects.
Our hand collating services are the perfect choice for:
Binder assembly
CD case assembly
Catalogs
Kit Assembly
Our hands are flexible to meet the needs of our customers.
Automated Collating/Saddle Stitcher
Our automated collating equipment, the Fenimore Multi-Binder, is designed for fast, accurate collating of printed material. Our 10-pocket collating machine has the following capabilities:
5 1/2" x 8 1/2" minimum sheet size for flat sheet collating
11 1/2″ x 17 1/2" maximum sheet size for flat sheet collating
8" x 9" minimum sheet size for saddle stitching
11 1/2″ x 17 1/2" maximum sheet size for saddle stitching
Corner stitching for up to 10 sheets
8 1/2" x 11" maximum sheet size for corner stitching
Before processing a full run, the first production copy is thoroughly checked for quality of crossovers, bleeds, pagination and more. Should a problem be discovered, we immediately call the customer to allow him or her to make corrections or give us the go-ahead to finish the project.
At Steve's Bindery Service, Inc., our machinery is always meticulously maintained, minimizing problems and enabling us to meet our customers' timelines. Steve does not operate his machinery at full capacity. He has found that operating the machinery at slower speeds produces a higher quality finished product and limits downtime due to machine malfunction.
Need more information or a quote?
Call 405-946-2183
or submit your
specifications online