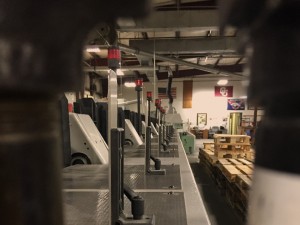 Steve's Bindery Service, Inc., is pleased to announce that we now offer PUR Perfect Binding. Polyurethane Reactive, otherwise known as PUR, is an adhesive that's different from the older Ethylene Vinyl Acetate, known as EVA adhesive.
PUR glue is the most durable binding glue available today, and it offers flexibility in design for many applications, such as catalogs, brochures, paperback books and instruction manuals. There are many benefits to using PUR glue, including:
A square spine can be achieved even on the thinnest of books.
PUR glue is impervious to extreme temperatures and won't re-melt in extreme heat or crack in the cold.
PUR glue is more than 2.5 times stronger than EVA adhesive.
The need for sewing is eliminated in most instances.
PUR glue can form a strong bond with paper even when coatings, inks and varnishes are present.
When PUR glue first became available, it had a long set-up time – sometimes, it took over 24 hours. Today, it only takes a few hours for PUR glue to attain 80 percent of its green strength. There is also very little waste or clean up as a computer-controlled system applies exactly the right thickness of PUR glue.
Steve's Bindery Service, Inc., is consistently offering new services to meet the demands of our customers. To learn more about PUR Perfect Binding, visit our Perfect Binding page or give us a call at 405-946-2183.